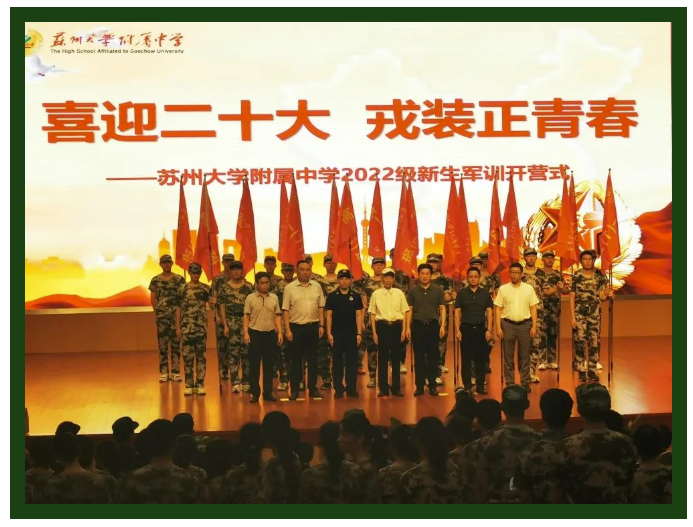 On the morning of August 22, Grade 10 students of the Sino-Canada Program started their first lesson of high school career-military training. During the next 6-day military training process, all Grade 10 students of our program will be managed according to the unified arrangement of the High School Affiliated to Soochow University, and will participate in the military training with the same schedule as the freshmen of the High School Affiliated to Soochow University.
At 10 a.m., the students attended the opening ceremony of military training in Bingxu Hall on time. First of all, Zhao Guangyi, the Principal of the High School Affiliated to Soochow University, gave a speech. He hoped that all students could take this military training seriously, overcome the hot weather conditions, hone and develop their will and quality, and adapt to the next tense high school study life as soon as possible through this military training.
Next, the students listened to the speech of old soldiers from the Red Army, who encouraged all the students to inherit the legacy of the revolutionary ancestors, overcome difficulties and hardships, observe military training discipline, and work hard for the great rejuvenation of the motherland. We hope that the students will not forget their original intentions, and start a better high school life through military training.
Liu Hongtan, the leader of Loufeng Fire Squadron, announced the military training requirements to the freshmen. He encouraged the students to actively participate in the training, cultivate their own military literacy, enhance their awareness of national defense education, and attach great importance to action and thought.
Finally, representatives of each class received the squadron flags from Principal Zhao, who announced the official start of the military training for the class of 2022. With the solemn vows of the students, the opening ceremony has come to a successful end. I believe that in the following military training process, the students will obey the command, train hard and complete the military training task successfully with full enthusiasm.